One of our goals at Oskaloosa Chiropractic Clinic is to provide education to our patients, so they can make the best possible choices.  We understand that not every one knows what to expect from chiropractic care and we want to provide a brief overview of what you can expect.
1st Visit
Paperwork:
We are excited that you have chosen us to be a part of your healthcare team and we need to get to know you a little better.  Upon arrival to our office you will be given paperwork to complete that will cover your health history.  If you prefer this paperwork can be done prior to your appointment, click the Patient Forms link to print.  We will also need to get a copy of your insurance card at this time.
Consultation:
Next you will sit down and have a consultation with Dr. Mike.  During this time he will review your paperwork and discuss any health related concerns.  The benefits of chiropractic care and potential treatment options will be presented and any questions you may have are always welcome.
Exam:
During the exam we will take your vitals which includes your height, weight, and blood pressure. If Dr. Mike determines that you need an x-ray it will be taken at this time. Dr. Mike will perform neurological, physical, range of motion, and posture evaluations to help him get a better understanding of your condition. Following your examination you will be given a gentle spinal adjustment.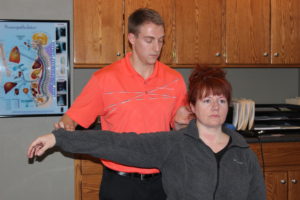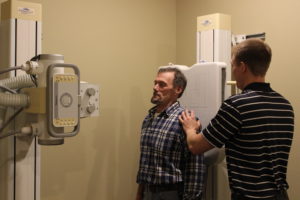 2nd Visit
Report of Findings:
Dr. Mike will review his findings from your initial visit, which includes your x-rays results (if taken) and your area of spinal subluxation.   Dr. Mike will discuss how you will benefit from chiropractic adjustments, your care plan and explain any therapies that may be used.  Specific exercises designed for your condition will be demonstrated and home care instructions will be given.  At this time you will begin active chiropractic care. This will include a spinal adjustment and any therapies that were discussed.
Follow up Care:
Treatment:
Your chiropractic care plan will continue with chiropractic adjustments and therapies. Your response to chiropractic care will be monitored and periodic re-evaluations will be done to monitor your progress.